In conversations with clients, more often than not, we've been asked: "What is HubSpot? All I hear is HubSpot, HubSpot, HubSpot!" HubSpot is a proven tool for generating leads. It's fantastic and I'm not just saying that because we're HubSpot partners. The facts are that it works and as a result, HubSpot's popularity is rising.
This shouldn't be a surprise. HubSpot has been around since 2006 propelling their message of why every business should be doing Inbound Marketing. What is Inbound Marketing? It's the process of getting ordinary people to find your business and turn them into paying customers. Inbound is growing and because of that,
HubSpot is growing...fast.
Here are two reasons why HubSpot is so rapidly growing amongst marketers:
The Need For Stronger ROI. Business owners and managers alike are TIRED of not being able to get a decent ROI on their marketing investment. But before even getting a decent ROI, they want to be able to SEE an ROI and quantify it. The bottom line is: You need cost-effective results!
The Need To Simplify Your Marketing. In the marketing world, there are loads of tools you can use to better manage your day-to-day inbound marketing. You've got one tool for analytics, one tool for email marketing, a bunch of design tools for landing pages, thank you pages and calls-to-action. For efficiency's sake, business owners need something that saves time and simplifies the inbound marketing process.
So What Is HubSpot?
HubSpot is an inbound marketing software platform that helps businesses attract website visitors, convert them into leads and turn those leads into paying customers. It's an all-in-one marketing software that uses inbound marketing (Search Engine Optimization, Blogging, Social Media, Marketing Automation and Marketing Analytics) to accomplish that.
What Can You Do With HubSpot?
Create Content In HubSpot
Great content will convert visitors into leads and send them down the sales funnel. Content is a major piece of inbound marketing and is critical in getting leads further down the sales funnel. But you need the right tools to make that happen and it requires your creative juices to flow. With HubSpot, you can create: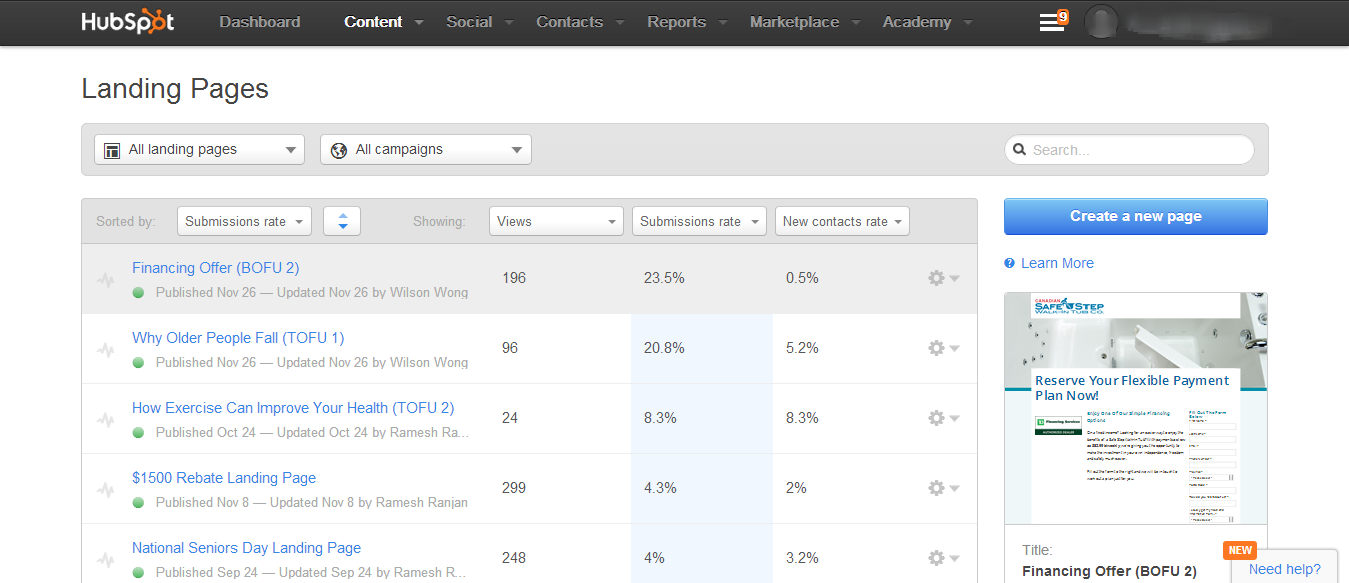 Landing Pages. Great landing pages are critical to inbound marketing success. You need a way to get visitors to opt into what your business has to offer. Valuable offers like ebooks and whitepapers are great pieces of content that can bring a website visitor closer to buying. In converting them from just ordinary visitors to qualified leads with great content offers, you'll the kinds of leads your business craves for. Create custom landing pages with HubSpot's landing page tool that includes all the components of a highly converting landing page.
A Blog. Everyone talks about content and with HubSpot, you can reap the benefits of the Blogging tool. So how does HubSpot's Blogging tool help? It allows you to create content easily with the ability to optimize each post for search engines. Not sold on blogging? Here's a short list of what blogging can do for your business:
Build Your Reputation As A Thought Leader In Your Industry
Rank Higher in Search Engines
Solve Problems Your Customers Have
Drive Traffic To Your Website
Increase Leads and Sales
Decrease Your Cost Of Customer Acquisition
As you can tell, it's a pretty attractive tool to have.
Calls-to-Action (CTA's). It's a common best practice to have CTA's on every page of your website because you want to give someone the ability to convert on any page. And as we know, the end goal for any landing page is for the visitor to fill out the form. The best way to usher them closer to filling that form is with a customized CTA that sends them to a landing page and clearly explains what the offer is. You should also tell them why they should click on it and go to the landing page. With HubSpot, you can use the very easy-to-use CTA builder or create a custom image CTA. You want to make your offers as visually attractive as possible. As you can imagine, this is a critical tool in the HubSpot toolbelt and you ought to take advantage of it.
Convert Your Leads With HubSpot's Unique Tools
So your leads have expressed interest in your business. What do you do next? HubSpot gives you the opportunity to nurture and convert those leads down the sales funnel into qualified leads and customers with marketing automation.
Workflows. There's no better way to nurture your leads with custom workflows. Trigger post-conversion actions like custom emails and content to move your leads further down the sales funnel and closer to buying.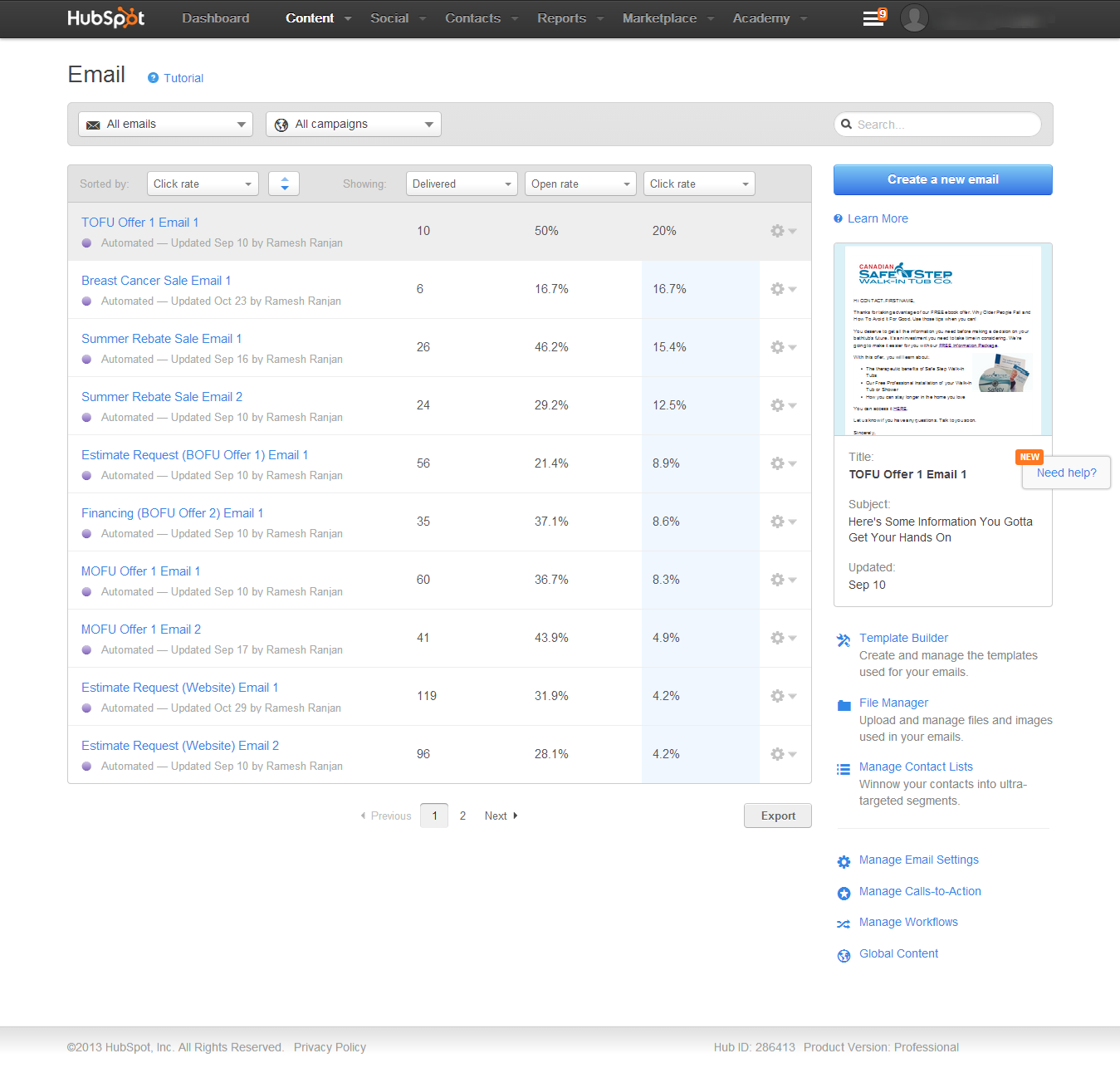 Email. Email Marketing STILL works! Whether you want to reach your customers through a one-off email or an entire email campaign, HubSpot's Email tool allows you to customize an email that your prospects will love. You have the option to use a HubSpot template or you can create your own email from scratch which means you have the power to communicate what you want to your subscribers in a stylistically attractive way.
Here's one unique feature within the Email tool: You can add personalization in the subject or body of the email. HubSpot can take information that the subscriber has given through a form submission and put that into your emails to give them the personal touch your leads will love.
Forms. We've seen countless instances of companies bombarding prospects with questions and requests for information in their contact forms. The facts speak for themselves: Long forms are big turn-offs for any user. HubSpot 'Smart' forms allow you to pre-populate fields with previously entered data, fully remove fields that have already been filled out and allow you to ask your prospects the smart questions.