The primary marketing goal of every dental practice is to bring in new patients and keep existing patients coming back in. It's what will keep your practice running. But what will grow your dental practice is being able to attract patients through digital marketing channels. Search engine optimization (SEO) is starting to be more and more used as an Inbound marketing channel by dental practices across North America. Put in a geographic search for dentists into Google and you'll see a local 6-pack result show up of all dental practices in that area. You'll see well-optimized websites also show up in the first organic results.
It's clear that more and more dental practices are leveraging the power of the Internet to attract more patients -
While SEO is just one channel under the Inbound Marketing umbrella, it's an effective one and deserves a micro-examination of how it alone can grow your dental practice.
We've seen it ourselves that this works for dental practices so let's go into what every dentist ought to do with respect to SEO.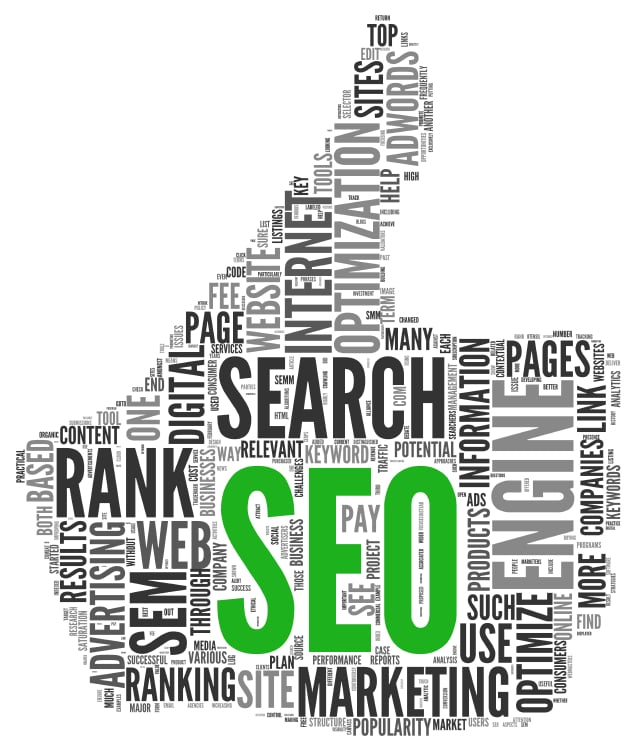 What Is SEO?
First, let's start things off by defining what exactly SEO is. SEO is the practice of improving a specific website or web page so that it receives more visitors via search engines. The goal is to ensure that the website/page in question ranks and ranks well for keywords profitable for a given business. Research shows that 75% of searchers don't move past the first page.
Not surprisingly, people tend to click on the first few organic results on a search engine results page (SERP) the most.
Effective SEO can help your dental practice increase qualified traffic to your website and satisfy the end goal of attracting new patients.
Getting Started With SEO
You may be wondering how to get started with SEO. It's not rocket science but it does take a LOT of time and effort! But as I mentioned, the results can be great (if done correctly). It's often difficult for busy professionals to find the time to learn and/or make search engine optimization work for them.
Good SEO comes down some specific things:
Proper Keyword Research - There are a number of ways to do targeted keyword research to find out what people are searching in your industry and roughly how many times a month do people search those terms.
Content - Your site content is what will (or will not) help convert visitors into leads and paying customers. But content also gets crawled by search engines. So what you must ask yourself is –does your site content read well for people AND search engines. Are there specific keyword phrases that you are targeting throughout the page including in the title tag, meta description, image alt text, heading, and subheadings? Moreover, search engines love sites that regularly publish fresh quality content. Hence, the popularity of blogging. But with so many blogs out there, the trick is in making your content unique.
Links - Links are essentially votes from across the Internet that tell search engines what sites and pages are important and popular. The more links pointing to your website (from quality sites) and specific pages on it, the more important those pages become in the eyes of search engines and the higher their rankings will be. Building citations (spoken about below), doing guest blog posts on high profile sites are examples of proven, effective link building.
Site Architecture - Your website can only get ranked by search engines if their bots can actually crawl it. With that said, site architecture and structure are important. Can search engines crawl your website with ease? Using sitemaps and robots.txt can help with this. Does your URL structure make sense? Search engines do look at this. Does your site load quickly? Yes, this is a minor search engine factor but it's still important for usability.
Citations/Directories - I mentioned this in link building – getting on high traffic directories and having what we call NAP – Name, Address, Phone number on there for your business is important. There also may be niche directories specific to your industry that would be beneficial for you to be on.
Google has over 200 different ranking factors that have been tested and are essentially the norm. So there certainly is much more to SEO than the above but in the context of doing SEO well and for a dental practice, this is a good starting point.
SEO For Dental Practices
So we come to the part about how all that we've talked about can be applied to your dental practice. YES, it can be done and I've seen the results. They are crystal clear - SEO works for dental practices. How? Here are 7 practical steps to take:
Conduct An SEO Audit. See how your website loads, if there's thin or duplicate content, what your link profile is like and how crawlable your site is. You can also see what keywords you currently rank for and what ones you don't.
Develop A Keyword Strategy. Do plenty of research on keywords that are profitable to your dental practice. Usually, this will include keyword phrases with "dentist" in them, phrases with a geographic term (where your dental practice is located), and phrases with your service offerings (cosmetic dentistry, dental veneers, etc) in them.
Conduct Competitor Analysis. Find out what your competing dental practices are doing. See what keywords they are ranking for, look at their link profiles, and examine what you can do to match where they're at and how you can beat them.


[elementor-template id="11472"]

Create A Link Building Strategy. Take the backlink assessment you did in the original SEO audit and use that and the competitor link profiles to see where you can build links. List some high profile websites to guest post on, as I mentioned in the content strategy section. Outline how many links you'll build per month in a schedule. Remember not to do too much too soon or Google might be suspicious.
Implement Your Strategies. Get writing and if you don't have time, hire writers. Don't know where to look? Then just contract an agency to handle it all. Start your linking outreach. Not sure how? Hire a professional link builder.
Track Your Progress. Use Google Analytics to see track site statistics. There are other tools like Advanced Web Ranking that show you how your search engine rankings and visibility are doing for your dental practice. Other tools are out there that can help you manage your content process and streamline your link outreach process.
Don't Forget: Optimizing for mobile. Mobile usership has rapidly increased over the last year. Make sure your website is mobile-optimized so that it can viewed effectively on a mobile device or tablet. We call this responsive design. You can test whether your own site is responsive by taking the bottom right corner of your browser window and dragging it inward and upward. If the navigation and images shrink and stay in line as you make the window narrower, then it's a responsive website. If nothing happens with the body of the site as you shrink the window, then it's not responsively-designed.
An SEO Disclaimer!
Even the very term, SEO, has been bastardized by inferior, sketchy firms, mostly located overseas. These 'SEO companies' employ what we call 'black-hat tactics' - things that worked 5-10 years ago in search engines but are subject to penalties from Google if done now.
So for the sake of your dental practice, DO NOT fall for outlandish claims by these guys who say they can get you to the top of Google search results pages for an extremely low price. When it comes to SEO and overall digital marketing, there is a direct correlation between what you invest and the results you will likely get. If your primary goal is to improve your dental practice's web presence for pennies on the dime, you'd be better off not doing anything.
I've seen businesses fall for these overseas schemes because they were attracted by low prices and lofty promises and ended up getting penalized by Google. To recover from a manual penalty from Google takes a lot of time and effort - but also a lot of money out of your pocket. That's not the kind of experience, service, and result you want out of professionals you hire. Go the safe route and dentists, if you want your dental practice to do well online, invest your money into a qualified, certified, creative, and resourceful agency who will get the job done properly.
SEO Takeaways For Your Dental Practice
With everything I've explained, listed and suggested here, doing it all will take some time but success will come if it's done right.
But remember that SEO is just one Inbound Marketing channel. There's so much more you can do to improve your web presence beyond what I've mentioned here in this post. A comprehensive digital strategy for your dental practice should incorporate other digital marketing channels like blogging, social media, paid search and video, so long as it makes sense for your practice and your marketing budget.
If you've got questions, please ask via the comments section below