As I am sitting here thinking about what to write, all I can think about is how excited I am about this new experience with ElementIQ. The past three months I have experienced a lot of life changes such as graduating college, then understanding how it feels being an unemployed degree holder, moving out of my childhood house to a new part of town, and lastly - willingly starting CrossFit for the first time, where you basically sign on the dotted line to get your butt kicked on the daily basis. But then, all these series of events had led me to the office of ElementIQ.
I believe that everything happens for a reason. One day I was working out at the gym and my boyfriend said that there was a guy I needed to meet because he has his own company that dealt with Internet Marketing. At this time I was desperately looking for a job, but I was looking elsewhere and I thought I had other opportunities lined up. But, to satisfy my boyfriend and to let him know I appreciate his help, I was going to talk to this guy. This guy ended up being Sam Araki.
I met Sam at the gym and we got to talking. I explained my past knowledge/education, my niche for social media, and that I really needed a job. This is where I learned about the internship program. He said to post my resume and email him. Literally three days later, I had my interview with Ramesh and Lincoln.
[elementor-template id="11471"]
When I sat down with them, they explained to me what they did and the purpose of Inbound Marketing. The more and more I listened; the more and more I was intrigued; then the more and more I knew I wanted this position.
Within the next two weeks, I found out I was employed and that I could finally put my degree, that I worked my butt off for four years for, to good use. So now, I have to thank my boyfriend and the fact that I took up CrossFit, for being able to be where I am today. What I wanted to outline in my debut blog post was my first (exciting, crazy, tiring, joyful) week at ElementIQ as an intern.
Monday, Welcome To The Family:
The Agenda:
-Welcome:  -Admin, supplies, tour, payroll, paperwork, phones expenses, ect.. -Google+, Gmail, apps. docs -Basecamp, Highrise -Work on Bio -Find ElementIQ on Twitter, LinkedIn, Foursquare, Google+, then follow us/like us/ect
-Install fun apps! - (Pocket, screenshot, Mozbar, WebRank SEO
LUNCH!!!!
1 pm: -Client walkthrough, and client schedule
3-4:30pm: -Learn HUBSPOT!
My first impression of this: WOW, THAT'S A LOT TO ABSORB. YOU LOST ME AT WELCOME!
But, this was not the case. The workday flowed very well after meeting all the great staff members and getting copious amounts of advice from them.  Once I was logged into all of the companies platforms, I started following some marketing and social media blogs like the Social Media Examiner, the Moz Blog, the HubSpot Blog, and much more. Then I started reading the ElementIQ blogs just to learn a little bit more about the company, their style, popular topics, ect.. I was very impressed with their blogs and their popularity. It made me excited to do my own stuff.
I had learned about the "fictional character" approach, as well. This is where you basically make a character for the company that you are trying to market. You are basically just surveying their target market and making up an ideal person that would use their product, or service, to be able to better your marketing approach.
The most mind-blowing experience, I think I have ever had, was learning about HubSpot! There is soooooo much going on that you literally are jaw-dropped at your home screen (In amazement..duhh!). I was really intrigued by HubSpot because it is very powerful. It is an all-in-one marketing tool. You can manage everything and anything from it including your website, social media, blogs, analytics, trends, pages, links ect. It is a godsend for inbound marketing companies like us. I still have a lot more to learn about it, but I'm excited about it; but more excited to start using it!
Then as soon as I knew it, my day was over! It went by very fast, probably because of all the information is thrown at me. I don't think I have ever heard the word SEO more in one day of my life!
Tuesday, Lets Test How Much You Can Read:
Tuesday was a reading day. I haven't read that much since my finals week in school. I started the day off reading, and I ended the day off reading. Everything from SEO, to PPC, to Citations. I also had to partake on my first test since college! (When you graduate form college you would think you would be done with tests, right?...WRONG!)
After a long day of reading and learning, I took away from it all with the knowledge that inbound marketing is so important these days for companies and other businesses. It is way more effective today than outbound marketing. This is because society is becoming immune to constantly having ads in their face and with all the technology these days nobody pays attention to even commercials; they will just fast-forward through them.
With inbound marketing, it is fascinating to see all of the platforms of PPC, SEO, Social Media, Blogging, ect. all fall into place simultaneously with each other.
One thing I really liked learning about was the sales funnel. You have the "Top of the Funnel" where first timers visit your site. If these people continue on crawling/show interest in your site they become a "Middle of the Funnel" lead. Then once they give you a call, email, their name,or any personal information related to your site they keep moving down to the "Bottom of the Funnel. Lastly, when purchases are made, they are a customers and not a lead anymore. This is quite interesting to learn about.
Wednesday, Learn Some Citations:
This was a way more exciting day for me. I finally was able to get going on some hands on learning! Citations were the task at hand for the day. Citations are crucial for marketing and getting your business recognized because these are what will pop up, other than your website, for people to contact your business. Some examples are Yellowpages, Google+ (My Business), Manta, Yelp ect..
These sites have all of your contact information, website, and sometimes reviews. These are important referrals for your customers.  When I paired up with Lincoln, we went over how to make citations and how to correct them. He also explained to me how it ties into the other parts of the inbound channels, which is very important.
In addition to citations, I had begun making my first scheduled Tweets! This was my favorite part! I love social media, so when I can research something really cool and make a great post about it, it makes me happy.
Thursday, PPC Is As Easy As 1,2,3 (NOT!):
Thursday was a fun, yet a complex time, for me at ElementIQ. I had been paired up with Drew, the PPC guy, to go over PPC (who would have thought?). PPC is pay-per-click, aka Google Adwords. This is where businesses purchase ads and have a bid for their ad to shop up on the first page of a relevant Google Search. If this ad shows up, and someone clicks on it, the business will pay a fee. As well, if this person clicks on their ad, and the ad has relevance to them, and they are digging more into the landing page; Google will rank your ads better and therefore will more likely show your ads.
The key for Adwords are keywords. Keywords are the little phrases/words you put into your campaign to have you ad show up when someone searches for something in the businesses field. This was very complex for me to understand because there are so many things going on and so many ways to do it! Google is a massive beast! And a smart one at that!
Finally, after getting a grasp of that massive, smart, beast; I was able to do some ads myself! I had fixed up two ads that were not getting enough clicks or impressions. It will be cool to see new analytics next week for those ads! Working with Drew was a very knowledgeable day. It was really neat to finally see how PPC really worked for companies, and to physically see analytic numbers to prove a good PPC can make a huge difference in a business!
Friday!!!!!-Don't Get Too Excited, It's SEO Day:
Oh glorious Friday, I had finally made it through my first week as an intern! But, before the weekend hit, I needed to have some much needed hands on learning with some SEO! Today was my day with Payman. He showed me the importance of SEO first hand.
First off, SEO is search engine optimization. So this is the keywords, meta-descriptions, headers, and content that will all be crawled by Google by the keywords you gave Google. It is amazing how one little word in your URL or header can change your search engine results.
You need to be very precise with the keywords and you want to avoid stuffing and thin content. Google will overlook you if this occurs, which is not good! That is why good content is so important when it comes to websites because you want to be recognized by Google and have a good ranking with them, so therefore, you can be found in the search. SEO will also tie in PPC.
By the end of the day, I was helping Ramesh and Payman redo a landing page for one of our clients. I think this is my second favorite thing to social media because I love taking something, and fixing it, to make it better! It was a lot of fun! Now..I can officially say I survived my first week at ElementIQ!

THREE THINGS TO TAKE FROM MY FIRST WEEK:
Any Question Is Not A Dumb Question!- Ask them all the time. Sometimes what you think is "dumb" is actually a really important question that interns will need to know.
Content Is Key!- Content is so important for inbound marketing. You rely on content to keep whoever lands on your page to keep investigating your page and then keep flowing down the sales funnel. It is also important for Google to recognize your page with SEO and page rankings. I can not stress how important it is!
Know Your Clients!- The more you get to know your clients on a personal level, and know how they operate, what they are about, and their target markets the better work you are going to be able to for them. You will see a higher ROI.
Here Are Some Other Great Guidelines To Use To Be A Great Intern!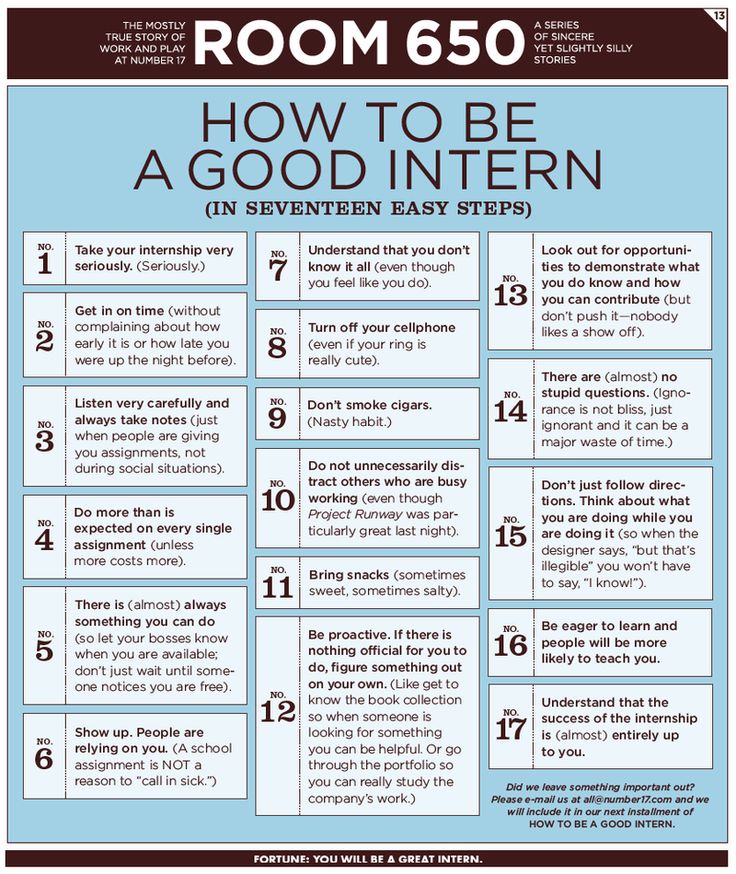 Courtesy of: Career Development Ctr SUNY Plattsburgh via. Pinterest.