One of the great things about the digital marketing industry is that it's always changing. Flat out – it's always changing. Google changes its algorithm. Social networks rise and fall. Search behaviour changes. Buying behaviour changes. All this change makes things enjoyable though. How we do things as an agency now is, in some ways, different from how we did things a year ago or two years ago.
One of those Inbound marketing channels, 'Search Engine Optimization' (SEO), is a perfect example. It's the perfect example of an Inbound channel that has been bastardized over the last 5 years — mostly by black hat 'marketers'. I say 'Search Engine Optimization' because that term has eroded a little bit and I'll explain why in this blog post. In my view, the term 'SEO' (the term, not the concept) is rapidly changing.
What Is SEO?
Let's start off by defining what the heck SEO is from words of the grand wizard of SEO himself, Mr. Rand Fishkin of Moz. Fishkin or for those of you on a first name basis with him, Rand, says that SEO is "the practice of increasing the quantity and quality of the traffic that you earn through the organic results in search engines".
SearchEngineLand says basically the same — that it's the process of getting traffic from the "free", "organic" and "natural" results in search engines.
You type something into Google and you're served a bunch of results that are determined to be the best and most suitable — in Google's eyes. Google has a long list of factors that determine how suitable or relevant a search result is. So the optimization part of the term Search Engine Optimization involves optimizing for these various factors.
How SEO Was Done
Terms like cloaking and keyword density were immensely important back in the day. Google's eventual algorithm changes cracked down on these old spammy tactics.
Here's a list of things that were done (and that you shouldn't do anymore):
Submitting press releases that aren't actual news items
Building spammy backlinks
Focusing purely on rankings
If you hear any of this from those responsible for your web presence, get out while you still can, business owners.
But let's think about this all for a second. SEO's were to optimize a web presence unnaturally for specific keywords that were deemed profitable to a business. It's kind of like jimmying a padlock or trying to break into your locked car after you left your keys inside. It's not the right way to go but it's a way to go.
SEO Today
Now that has changed a little bit. Given all that has happened and transpired in the past, all of the aforementioned heavyweights in the industry have gone in a different direction. And this isn't bad. They're responding to Google's algorithm changes and to search behaviour.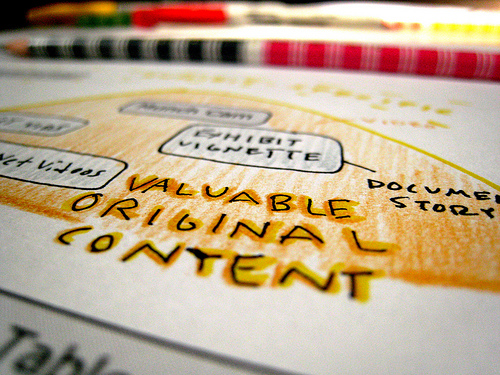 The results? The emphasis today is on determining user intent, enhancing user experience and satisfying that intent seamless, creating highly valuable pages in the process. This involves creating incredible content that people will naturally link to. You write a blog post that's so good that people link to it in their own blog posts and share it via social networks. This creates natural backlinks. Plus, the importance of social signals cannot be ignored.
It also involves making sure all pages of your site serve a purpose and that these pages provide users with relevant information. The more valuable information, the better the site is in Google's eyes. In fact, they cracked down on sites with too little information with the Google Panda penalty.
Of course, all of the on-site SEO items still matter and play a big role — HTML factors, site architecture factors and so on. Take a look at the Periodic Table of SEO for a nice visual representation of that.
Do We Still Call It "SEO"?
If you looked at that Periodic Table for just a second, what was the longest column? Content. So the creation of good, quality content that informs and educates searchers is critical to organic success. There's already a term for creating content that educates, informs and eventually, brings in business. It's called content marketing.
Links is the 4th column and there's plenty of grey area as to what is good in Google's eyes in terms of building links and what is not. Hence, why all the heavyweights advocate creating content that builds links naturally. I outlined what you shouldn't do earlier. So if link building has come down to creating content that builds links naturally, then isn't link building simply about content? So modern link building is just content marketing.
The second-to-last column is "social". It just means that the more you share and the greater your following is, the better the reach for whatever you are sharing. Now, what do we call the stuff you share over social networks? Content! Social media is almost wholeheartedly content-based and the connection to organic search is that studies have shown that there is a correlation between tweeting or sharing a link and how quickly a post gets indexed in search results. But again, for any of this to transpire, content must be created.
So What Am I Saying Here?
Well, I definitely won't say that "SEO is dead" as so many out there have. I just argue that much of it is encompassed by other Inbound marketing channels like Content Marketing and Social Media.
And in my breakdown of the Periodic Table, there were still 4 columns remaining and #2 and #3, HTML and Architecture, respectively, are extremely important to the health and viability of any business' web presence.
So SEO is not dead, but changing and slimming down. What business owners need to understand is that SEO is just one Inbound marketing channel. It requires other channels, like Content Marketing, Social Media, Email Marketing and Paid Search for it to work harmoniously in success. You can't have amazing content but a poorly structured site with a bunch of broken pages and oversized images. You can't be running Google AdWords ads and pointing them to a bad landing page or an awful site altogether. All Inbound channels have a place and ought to hold their respective hands together for businesses to reap the benefits.
Main Takeaways
Let me give you some things to take away from this post:
Always be publishing great content
Always approach your site from a user's perspective
Always have SMART goals
Always have a strategy in place to achieve those goals
Never look for just an "SEO company"
Consider every Inbound marketing channel
BONUS: Here's a terrific post on the Top 10 SEO Myths by Cyrus Shepard. Please give that a read as well!
I'd love to hear from you on everything you've read above! Leave your comments and questions below and I'll respond!