'Change is the only Constant in Life' – Heraclitus
Don't we all know this? Don't we see it all around us? And yet, are not many of us afraid of change? The reason I reflect on change as the opening to this blog is because 'change' is such a visible constant in the Digital Industry. As an example - Google, Facebook, and Twitter are constantly in the news for evolving their algorithms. Such changes require Digital Marketers to persistently keep themselves updated.
To be successful in this industry, I strongly recommend following knowledge-leaders in this field by subscribing to their blogs and following them on twitter or other platforms. Some of the people/organizations we follow include Neil Patel, Noah Kagan, Marketing Land, HubSpot Academy, and Moz to name a few. And I thought the school was done - who was I kidding?
Introduction
With that opening discourse, let me move back to reflecting on the Internship Program at ElementIQ Internet Marketing. In my first blog post, I wrote about my background and the reasons for choosing an Inbound Marketing Agency for an Internship. In the second post, I shared some of my major contributions. Now, 2 months have passed since I joined the program and with that, I am halfway through this journey.
If you are reading this blog, chances are that you are flirting with the idea of choosing digital marketing as a career or you are an agency/company contemplating incorporating an Internship program yourself. Given that is true, I believe there are two things that you are most interested in knowing:
What the Internship program entails?
What is the company like?
With those two questions in mind, I intend to first reflect briefly on the program in a personal context so that you get a glimpse of the training and assignments. Second, I will share my observations and opinions about the company in an organizational context.
The following is the blog-post-architecture: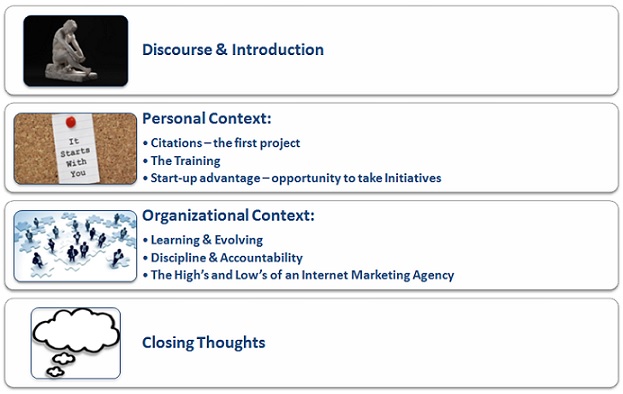 Personal Context
Citations – The First Project
The first major project assigned to me was to understand and master the skill of citation building. Citations (as I had mentioned in my earlier post) in the context of SEO, are having your business information listed on various online directories like the Yellow Pages. This is a task that requires one to be tedious and meticulous and, by all means, is not very thought provoking. However, the exercise has made me gain new perspectives on the online world and taught me invaluable lessons in project management.
As mundane as the task of citation building may sound, it has been thoughtfully chosen as a key focus area of the Internship. This is because building citations gives you hands-on-experience in helping businesses rank in local search. This ties in with the lessons you learn in search engine optimization (SEO) and gives you greater familiarity with the Google search algorithms. These insights will be very useful when you get down to creating digital marketing strategies.
The Training
There are many roles within a digital marketing team – Web Developers, Social Media Managers, Content Marketers, SEO specialists, Data Scientists etc. There is a good chance that you may be more inclined towards one domain as compared to another. However, there is a remarkable connection between the various functions and hence, collaboration has become very important. To foster more effective collaboration, one is trained in all departments and functions.
Once you reach the mid-point of the Internship, you would have completed many of the planned training sessions. Moving forward, one gets to choose his/her area of interest for more specialized training. Personally, I am finding this choice a tad-bit-hard as the desire is to specialize in everything.
The Start-Up Advantage - Opportunity To Take Initiatives
As organizations grow, roles and responsibilities get better defined. But, when a company is still in the stage of infancy to childhood, there are tremendous opportunities to take initiative. Systems and strategy are continually evolving and working in a start-up can give you the opportunity to contribute to the very core of an organization.
The Spirit Of Intrapreneurship
Most entrepreneurs start with identifying pain-points and creating solutions around the same. Successful and efficient solutions can become long-lasting businesses. Similar to this approach, I identified certain pain-points when it came to the ease of accessing information. This led me to take the initiative of creating a better system for management of information. The fact that many start-ups allow for an individual to flex his/her entrepreneurial muscles without assuming the risk of owning one's own business has led to great job satisfaction for me.
Organizational Context
I take great interest in the history and evolution of an organization. LocalTrifecta was founded in 2010 as an Internet Marketing agency with the focus on helping small-to-medium size businesses. The focus remained the same, but the scope and quality of service kept increasing as the company moved from being a general SEO agency to becoming an Inbound marketing agency. Interestingly, Sam had a background in communications and finance and the world of Internet marketing was all new to him. Yet, with relentless reading, he learned a new language. Today, he corresponds fluently with web developers & designers, SEO specialists, content marketers, and social media marketers. This is an inspiring trait that has remarkably influenced the learning culture of the organization.
Things are constantly changing in the digital marketing industry as I said at the very beginning of the post. Old ways constantly become redundant making it necessary to get new knowledge. Since its inception, the company has grown to learn the best practices in the industry and has recently started offering a much more comprehensive partnership to clients. We understand that many moving parts have to come together to make a digital strategy successful. Hence, we are choosing to become a full-service digital marketing agency in the near future, incorporating many of the philosophies of Inbound Marketing.
To be successful in this industry, I cannot emphasize enough on adopting a lean and flexible organizational structure. Adaptability to change is a key success factor and with all things digital being so inter-linked, collaboration and teamwork have become more important than ever before. At LocalTrifecta, we all work together in one big room. Not only that, but we also practice cross-job-training. Knowing each other's strengths, weaknesses, the scope of work and major challenges significantly promotes greater effectiveness and efficiency.
Discipline & Accountability
Let me give you a little inside scoop of the work culture at our place. In an office vibrant with jeans and t-shirts, music and humor, X-Box and Jenga – we are just here to have a good time – or are we? Here, there is no concept of micro-management or a long list of formal rules and regulations. Liberal as it may be though, everyone is expected to take interest and follow through with what is expected of them.
Working with a limited number of people on a variety of clients means there are always things to do. With each member assuming a range of responsibilities, work discipline has to be intrinsic to your nature to be successful in this role. You are your own person here, and you owe yourself accountability.
The learning curve is steep, especially in the first month. But as you transition from learning to contributing – be prepared to Multi-task. Apart from focusing on the main projects that are assigned to me, I am also involved with a number of other deliverables. Recently, I have spent a considerable time in optimizing blog posts and creating digital presentations. Things can get confusing after a while. To ease through the process, I recommend maintaining notes and using organizational tools like to-do lists.
The Highs And Lows Of An Internet Marketing Agency
Instant Versus Delayed Gratification
At LocalTrifecta, we build and manage the online reputation for our clients. The World Wide Web is a very intricate mesh where the cause and effect of actions may not be immediately visible. This makes client interactions especially interesting. We offer our services without the obligation of a long-term contract. Hence, every month we present monthly reports to our clients. Often times, however, the results of site-page improvements, blogs, citations etc take time to reflect positive impacts. Clients, for obvious reasons, want to see results. And when the results are not immediately apparent, it can get difficult to justify investments.
Another low of the Internet marketing world are unreal results that certain agencies claim to offer. We serve a few clients now who had previously hired agencies that promised top results on search pages in the first month for example. In doing so, they engaged in manipulative tactics to produce inorganic results. Doing so overwhelmed the clients initially, but in the long run, it had a severe negative impact to their online reputation. Think of it as being in an illegal business – it can be very rewarding at first but extremely damaging in time. Cleaning up the mess created by someone else is a huge challenge and not a very fun one to deal with.
Partner To A Success Story
Before joining LocalTrifecta, I had met most of the individuals working here. I had asked them to describe the company mission statement. The unanimous response was – adding value to clients, everyday. Being partner to a client's success story is the biggest high of the Internet marketing agency, one that makes all challenges feel like minor obstacles.
Closing Thoughts
Based on demand and supply, CareerBuilder partnered with Economic Modeling Specialists Intl. (EMSI) to compile a list of the best jobs for 2015. Marketing executive featured at the top of the list in an article published on Business Insider. For a career in marketing, it is imperative that you get experience in digital media and there is no better experience than agency experience.
The Internship program at LocalTrifecta is a wonderful opportunity to get training and hands-on-experience in digital marketing for SME's. It is also a great opportunity to work with young professionals who are passionate and talented in the trade. If you are considering this as a viable option, I encourage you to research further by reading other blogs and networking with industry professionals.